Roundtable Discussion: How GBV impacts Bangladesh's Development
The VAW Survey 2015 shows that 73 percent of married women in Bangladesh have experienced violence by their husbands. 55 per cent reported violence during the past 12 months and 50% reported physical violence in their lifetime. Although, the frequency and severity of gender based violence (GBV) varies across the country, it creates a ripple effect in hindering the overall development of Bangladesh
The survey was conducted jointly by United Nations Population Fund (UNFPA) and the BBS.
High level policy makers, development partners, members of civil society and journalists gathered to exchange dialogues on Nov 27 last year, on the importance of combating GBV in Bangladesh in order to achieve the Sustainable Development Goals (SDGs).
The event, organized by the UNFPA and The Daily Star, focused strongly on the impacts that prevails due to GBV, and to find solutions to respond and reduce the vital problem.
GBV is the most pervasive form of human rights violation that women and girls regularly face in Bangladesh. Factors such as the deep rooted patriarchal social norms, discrimination against women and child marriage makes GBV persistent.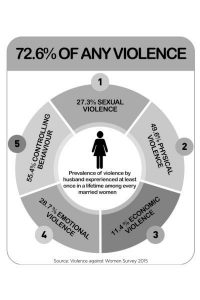 .
GBV impoverishes individuals, families, communities and governments, downgrading the economic development of a nation. At the individual level as many as 14% of maternal deaths is associated with GBV and at the national level the country loses 2.10% of GDP due to domestic violence (CARE Bangladesh, 2013).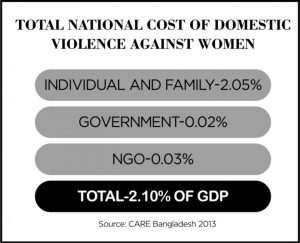 The speakers pointed out the weakness of the existing efforts to prevent GBV, mentioning that access to justice still remains complicated, costly and lengthy for women and the poor. Survivors often do not seek legal actions after being subjected to physical violence as law enforcers often hesitate to take the issues seriously. The need to ensure speedy trials is crucial as people want to see what happens to the criminal, as setting an example might reduce incidents of violence. Educational institutions should play a more effective role in change the attitudes and behaviors that cause gender-based violence and allow it to continue within the community, said the participants.
In order to ensure substantive equality for women and to eliminate GBV, all the participants agreed that strong will and leadership from the government is vital. They highlighted the need for strengthening coordination between government and non-government efforts at preventing all forms of GBV.
The programme also stressed heavily on repealing the Child Marriage Restraint Act, that would allow girls under 18 to get married in 'special cases'.
Read more: http://www.thedailystar.net/round-tables/gender-based-violence-and-its-impact-bangladeshs-development-1331872