The 5th Share-Net Bangladesh SRHR Knowledge Fair hosted online
On the 6th of December 2020, Share-Net Bangladesh successfully hosted the fifth SRHR Knowledge Fair 2020. It is the biggest annual SRHR event in Bangladesh that aims to increase awareness and sharing of knowledge on Sexual and Reproductive Health and Rights (SRHR) in Bangladesh. Each year, the Knowledge Fair brings together practitioners, activists, students, academicians, donors, policy makers, media and government officials who are working in the field of SRHR. 
The event was held as an online event this year through a virtual event platform where interested participants accessed through a simple registration process (https://kf2020.redorangeltd.com/). More than 320 people registered on the platform. The event took place from 10:00 AM to 2:10 PM. The recorded sessions, posters and stall exhibitions are now all kept open in the platform so that people can register and visit whenever they want. 
The theme of the 5th Knowledge Fair was 'SRHR for Adolescents and Youth' which reflects the SDG goal 3: 'Good Health and Well Being'. With the central focus of this year's knowledge fair, the main objective was to contribute towards improving adolescents' and young people's SRHR by providing more opportunities, which will enable them to know their rights, share their knowledge, and create networks for the improvement of their own SRHR. Shortly, the aim was to create YOUTHPower!
At the opening session of the event, the Chief Guest, honorable Director General of Department of Women Affairs, Ms Parveen Akhter, said, 'SRHR for youth and adolescents must be taken very seriously. It is a fundamental component for building the next generation towards peace and sustainability. We must extend our hands for all cooperation and give support for them.'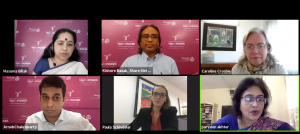 Special guest, Deputy Commissioner and District Magistrate of Narsingdi, Ms. Syeda Farhana Kawnine talked about different projects that are implemented in Narsingdi for increasing SRHR services and awareness among youth and adolescents, mainly projects named 'Theatre for Development', 'Ajoy', 'Shwapnochaya booth' etc. She mentioned that there is a lot of scope to work because even now the rural people below the poverty line and those who are deprived from literacy have lack of awareness and knowledge among them for which effective coordination is very important. Second special guest Ms. Paula Schindeler, Deputy Ambassador, The Embassy of the Kingdom of the Netherlands affirmed that SRHR is an intrinsic part of development and it can empower youth and adolescents to make free and informed decisions. The third special guest Ms Caroline Crosbie, Senior Country Director, Bangladesh, Pathfinder International, gave a very precise speech, where she mentioned that 50% of the women of Bangladesh get married in their adolescence. She also stated that as consequences of early pregnancy, children of adolescent mothers have a 34% higher risk of death in the neonatal period and 26% higher risk of death by the age of 5. She proposed to put greater focus to two goals, one is to create a healthy social environment and another goal is to have young people with expanded SRH knowledge, practices, skills, attitude and rights.
The event proceeded further to a plenary session, parallel scientific sessions on 'Lifestyle' and 'Sexuality', workshops on 'Adolescent SRHR' and 'Safe Internet', poster presentations on various issues related to SRHR and Gender Based Violence, stall exhibitions from various organizations  and fruitful discussions among the professionals who took part in the sessions.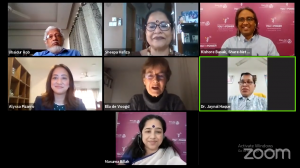 In the Plenary session titled "SRHR Services for Youth and Adolescents in Bangladesh: Overcoming  Barriers, Creating YouthPower", Keynote Speaker Ms Sheepa Hafiza, Equality and Human Rights Activists presented on sexuality, SRHR and the policy changes. 
The main attractions in the closing session were the launch of an Gender analysis app 'GPower', SRHR Recognition Award and the Special guest Sadat Rahman, winner of International Children Peace Prize Award 2020. Shampa Goswami, Executive Director of PRERONA, who initiated distribution of low cost sanitary napkins in the disaster prone areas of Satkhira, won the 'SRHR Recognition Award'. Sadat Rahman shared his inspiring journey as a young volunteer and his project, the 'Cyber Teens' app through which innocent adolescent girls and boys who are victims of cyberbullying, can get legal help and psychological counseling. The Chief Guest Dr. Abul Hossain, Project Director, MoWCA appreciated the platform Cyber Teens app  has created for innocent adolescents to battle cyber bullying and encouraged young people like Sadat to come forward in making positive changes in the society.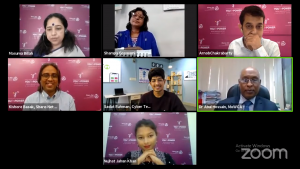 Arnob Chakrabarty, Project Director of Share-Net Bangladesh called the closing session 'a new beginning' to look forward towards a better future for the adolescents and youth of Bangladesh.