Adolescent Trouble!?
Adolescence is a period of discovery. The young, energetic soul during this time grows soaking up new knowledge, experiences, skills, facing biological changes, dealings with new emotions, and so on. Every adolescent has a different history of their adolescence period depending on her/his gender. Some might have grown up in a very supportive, caring environment, while some others have passed their adolescence in a hostile and deprived environment. Especially the adolescent girls, who are being introduced to the new 'guest' in their lives, called "Menstruation". Every month they are struggling with this 'seven days guest' in their lives.
Now, what about those girls who live in the streets, who have no security of their lives, no fixed houses to live in, no parents or reliable source to discuss, no food to eat, no available necessary products for their livelihood?
They are the most vulnerable group in the country, yet the most ignored group. In their adolescence, they face domestic violence, physical abuse, exploitation, menstrual issues, malnutrition, negligence in their daily life. This paper has shown how the female street children consider their adolescence period a 'troubled phase' of their lives.
In Bangladesh, the adolescents live in a community with traditional beliefs, which still does not discuss sexual and reproductive health openly. Even the mothers of the daughters feel uncomfortable discussing Sexual and Reproductive Health and Rights (SRHR) with their daughters. Undoubtedly, the condition of the street female children is beyond imagination because they have lack of resources and access to services. They do not go to school and some have no parents or relatives there. They get relied on their peer partners to discuss everything.
Thus, I conducted a study titled "Adolescent Trouble: A Qualitative Study on MHM and Forms of Sexual Exploitation and Abuse among the Street Children in Dhaka City." Most of the participants interviewed were unaware of this menstrual phenomenon; they became familiar with this concept while menstruating. They commonly used old rags, clothes which are the emblem of shame for them. They store it in a secret hidden place and reuse those in the next menstrual cycle. Regarding menstruation, culturally they practice some restrictions on food intaking. For example, they believe sour items should be avoided for access bleeding, fishes should be avoided for causing a bad smell in menstrual blood. Some myths and misconceptions also play a dominant role in their practices which encourage them to avoid sanitary pads. They believe using pads is associated with female infertility.
Being female street adolescents, menstruation is not their only problem. They are confronted with many vulnerabilities like sexual exploitation, abuse, harassment and so on. The study found that domestic violence pushed them to choose street life. Violence at home and in the streets is the daily phenomena of their life. Every day they deal with intentionally touching, teasing, harassment by strangers, rickshaw pullers, CNG drivers. Few of them were also forced to do sexual activity in exchange for money which directly pushed them into prostitution, some girls faced human trafficking also.
The paper made a strong case that ignorance, false perceptions, and unsafe practices related to menstruation are not uncommon among female street adolescents. It directly impacts their reproductive and sexual health. They continuously struggle with violence and abusive experiences that directly impact their psychological growth. But they remain ignored in the eyes of the policymakers and service providers. The silence that surrounds menstruation, exploitation, violence has uneven consequences on female street children. Living with these vulnerabilities during their adolescence period creates a challenging circumstance termed as 'adolescent trouble.'
In conducting this research, I am very much grateful to Share-Net Bangladesh, who selected me as a "Young Researcher Fellow" in their fellowship program in 2020. Share-Net Bangladesh provided me with the funding to conduct this research. The team of this fellowship program had been tremendously supportive in my every footstep to finish this paper. They also helped me grow my critical knowledge towards sexual health, sexuality, and so on. Every expert meeting helped me broaden up another new angle in my study, which helped me find out the gap from the root level. I hope this piece of paper can highlight the unexplored issues related to sexual and reproductive health and exploitation among female street children at the policy level.
Moreover, I had participated in the 5th SRHR Knowledge Fair organized by Share-Net Bangladesh, which was held on a virtual platform. It allowed me to present my findings in front of the honourable panellists and discussants from the national and international level. By presenting my paper at this fair, I tried to make the unheard voices of the street children audible to the respected and concerning authorities who can bring change to the existing situation.
Lastly, I would like to give my humble appreciation to the team of Share-Net Bangladesh, who supported me from the very beginning. They helped me think broadly which helped me paint the holistic picture with confidence. The coordinators, specially Masuma Billah apa and Kishore Kumer Basak dada, made me feel comfortable in every step and deal with challenging situations. Due to COVID-19, we had to avoid face-to-face meetings, but online we had sat many times for discussions, which gave me a friendly environment for my work.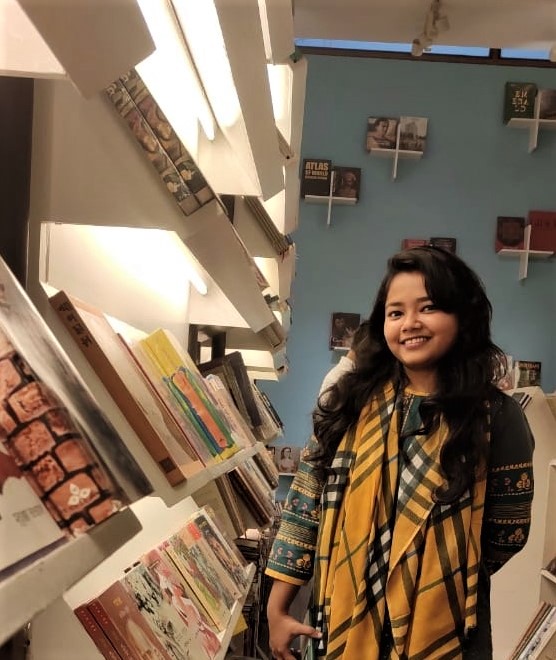 Author: Faria Binte Arif, MSS Student, Department of Anthropology, Shahjalal University of Science and Technology, Sylhet