BREAST CANCER AWARENESS MONTH 2018
Let's get it off our chests breasts!
BREASTFEEDING IS IMPORTANT, AND SO IS BREAST-FEELING!
Whether we have breasts or not, we know we love them. Our babies can not survive without them as they are literally their first and primary source of food (breastfeeding).
There is, of course, a 'shyness' when we talk about the pair and that is because society has sexualised the body part so much. But let's imagine for a moment how something we love so much – if not treated well – may eventually kill us! It comes down to the biggest enemy of the human race: CANCER. The impact of cancer is so big, that each month in the Gregorian calendar is dedicated to one or more cancer awareness campaigns.
Breast Cancer Awareness Month is commemorated annually by national and international health and government organisations throughout the month of October. Major charities on this month attempt to increase awareness of the disease and raise funds for research in to the cause that will contribute to its treatment, cure and prevention and also to offer information and support to those affected by breast cancer.
Educating people about the importance of breast-feeling, which can also refer to a 'breast self-examination', is one of the main focuses of the 31-day campaign.
It is encouraged that women of all ages perform the test – also known as the Touch, Look, Check, or TLC method (described below) to be done 2-3 days after menstruation – at least once a month.
DIY: TOUCH, LOOK, CHECK (TLC)
Early detection matters!
Breast cancer typically produces no symptoms when the tumor is small and most easily treated, which is why screening is important for early detection. Being 'breast aware' simply means: knowing what your breasts look and feel like normally; being on the lookout for any unusual changes; and getting them checked out by a doctor.
Touch, Look, Check (TLC) is a mnemonic created to prompt women to inspect in and around their own breasts (armpits, upper chest) for any lumps, unusual pain, change in size, shape or color (of skin), rash or crusting, deterioration of the nipple or any discharge from it, or any other form of discomfort.
Let everyone know about the TLC self-examination.
Do it yourself and let others know that anyone can self-examine their breasts when in the bath or shower, while getting dressed in the morning, or while lying down or sitting up in bed. There is no special technique or training required to perform a TLC, and since a woman will know her own body more than anyone else, it's good to start the habit of performing it regularly.
Note that there may be lumps or other signs that may not turn out to be cancerous; so it's best to stay calm and NOT freak out! Consulting a doctor or taking a mammogram, which is a painless medical test that only takes a  few seconds, is recommended.
ITS BREAST TO BE AWARE!
It's time for us to focus on staying proactive about our health.
What doesn't kill us, only makes us stronger! But this strength must come from awareness, and equally from the spread of it. Many things affect our risk of developing breast cancer. Some of these things we can't change, like the genes we inherit or getting older, but our lifestyles can play a part too. But either way, it is important to know!
There are some things we can change to help stack the odds in our favour. Leading a healthy lifestyle – keeping to a healthy weight, being physically active, avoiding alcohol and smoking – can help lower the chances of the disease developing. Other risk factors include vitamin deficiency, hormone replacement therapy (HRT), exposure to radiation and/or chemicals in food, cosmetics etc.
WHAT'S HAPPENING IN BANGLADESH?
Strong advocacy on breast cancer and its awareness needed!
In terms of national interventions, Bangladesh Breast Cancer Awareness Forum and Rotary International District-3281 have a month-long programme planned in and outside Dhaka. The organisations marked this year's Breast Cancer Awareness Day on October 10, the theme of which is 'breastfeeding reduces risk of breast cancer'.
Data from the Global Cancer Observatory (Globocan-IARC), an interactive web-based platform that presents global cancer statistics, stated that 12,764 women are known to be affected by breast cancer every year in Bangladesh, accounting for 19 percent of all female cancer patients.
Share-Net Bangladesh, a knowledge platform on SRHR, is consistently working to spread the messages of awareness about breast cancer and get as many people as possible to get involved. The aim is stimulate informative and educational materials and instigate conversation and discussion on the topic.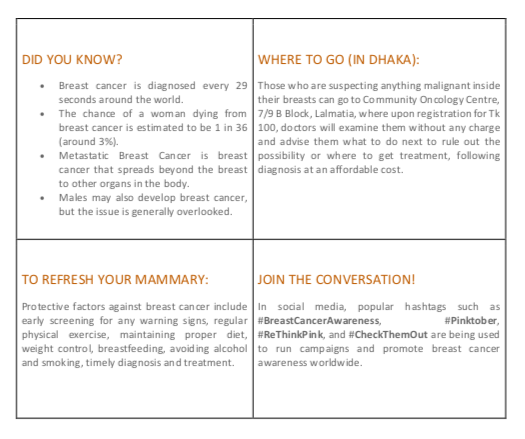 Source(s): BreastCancerNow; The Daily Star