Combatting cyber harassment through comics
Youth-led organisation N te Nari, N te Nirapotta (NAW) was the 2021 runner-up in the students/campaigns category for UNDP's Digital Khichuri Challenge (DKC), titled "The Unsafety Net: How Online Abuse is Driving Women Out of Digital Spaces".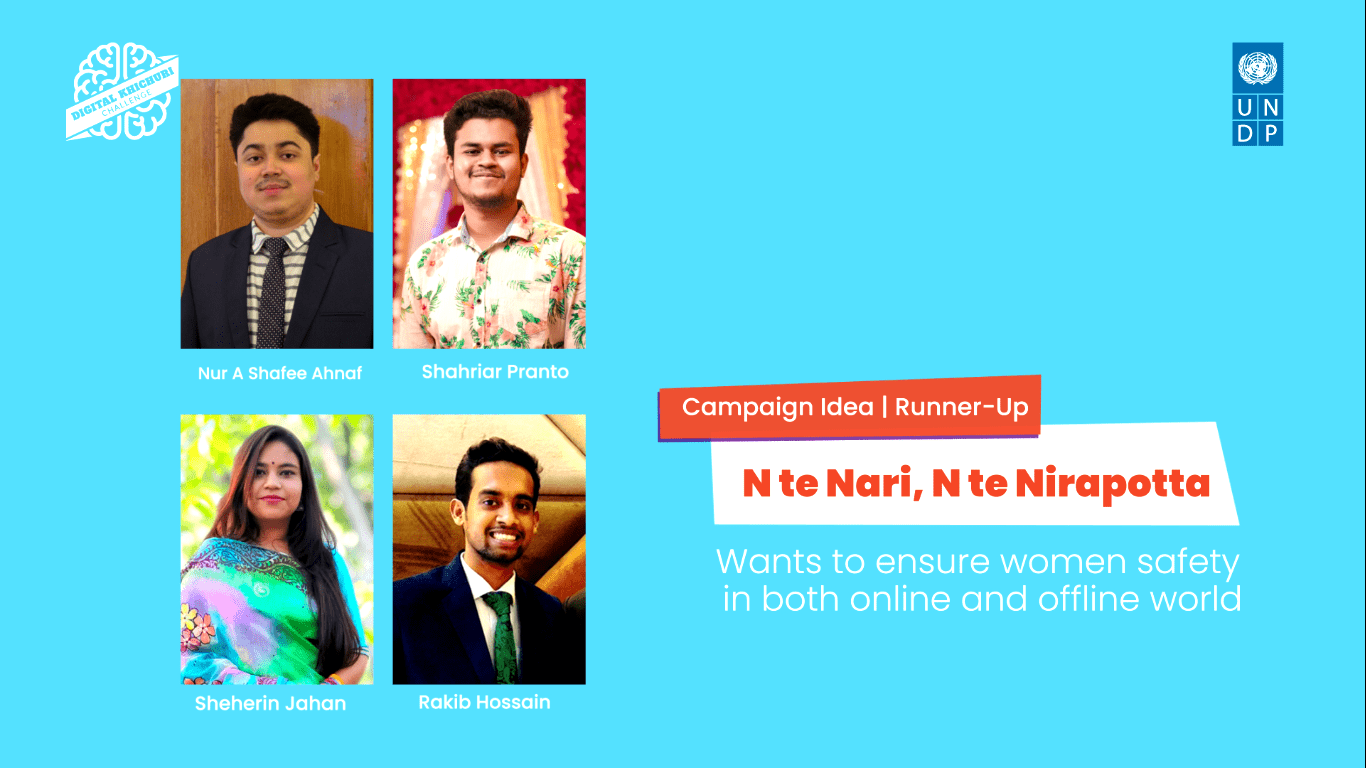 Shahriar Pranto, Founder of NAW, formed a team of five to enter the competition and counter cyber harassment. The other members of the team are Co-Founder Nur-A-Shafee Ahnaf, who studies Economics at Dhaka University (DU), Chief Strategist Md Rakib Hossain, a marketing student at North South University, Ashim Faiaz Talukdar, the Chief Arts & Graphic Designer from Faculty of Fine Art, DU, and Sheherin Jahan, the Campaign Coordinator, who just completed her HSC from Adamjee Cantonment College.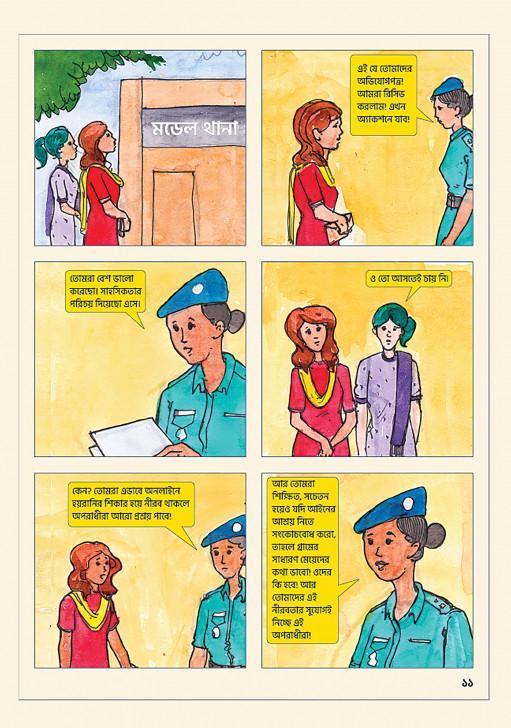 During the competition, their research led them to find existing ways in which women can seek help if fall victim to online harassment. However, people are oblivious to such facilities due to lack of information dissemination.
There are numerous hotlines that women can use to complain about cybercrimes, including Police Cyber Support for Women, Quick Response Team of the Women Support & Investigation Division and Cyber Police Centre.
In order to tackle violence against women and children, the Ministry of Women and Children Affairs provides a national helpline, 109, which provides police assistance and counseling services, among other things.
NAW publishes comics online, based on true stories, to enlighten people about such services. This medium allows them to portray the story of a woman being harassed, asking for help and finally, the perpetrator being punished, in a way which people can relate and empathise with. As people read the comics, they become aware of the assistance available in case anyone comes into such dangers.
NAW also organised debate and art programmes online so their message of speaking up instead of staying silent is dissipated across the nation to as many people as possible.
"Women have increasingly exposed themselves to social media, especially through e-commerce, so it is important that we promote safe and healthy online communities. We are also hoping to start campaigns and have someone from the police go to schools and teach both boys and girls about helplines," shared Pranto.
In the future, NAW aspires to have printed versions of their comics. "If physical copies of our comics are distributed in debate programmes, science fairs, libraries and student clubs in schools and universities, it will be easier for us to relay the  necessary information," concluded Rakib.
Author: SHANIZ CHOWDHURY, student of BRAC University, and a freelance journalist. Email: shanzaychowdhury@gmail.com.
Source: The Daily Star
Featured image: Courtesy of NAW (Team members of NAW receive their DKC runner-up trophy from Rob Stoelman, Project Manager, UNDP Bangladesh)