An app for breaking SRHR stigma: "Challenger Mamu"
On Dec 4, an initiative by the Center for Men and Masculinities Studies (CMMS) named "Campus Hero Café" was inaugurated to reach schools, colleges and universities in Dhaka, Pabna, Cox's Bazar and Rangpur.
Textbooks on Physical Education only contain few chapters on Sexual and Reproductive Health and Rights (SRHR). Teachers often advise learners to read the chapters at home and almost never in classrooms. This is due to the social stigma on Bangladesh's conservative society.
However, the age of internet opens up ways for young men and women to learn about sexuality. They often tend to acquire dangerous misconceptions about the opposite gender which potentially affects their psychosocial development.
To counter this problem, activists and experts of CMMS established counselling centers called "Campus Hero Cafés" in different educational institutions and aim to reach young adolescents with correct concepts of SRHR and make them conscious and respectful of the rights of women and girls. The cafes also organise a wide range of social activities to make other students and the community conscious about SRHR issues.
To reach these students 24/7, a mobile app called "Challenger Mamu" was launched. With the help of the app, adolescents can interact with experts to reply their queries regarding sexual and reproductive health. Screenshot below: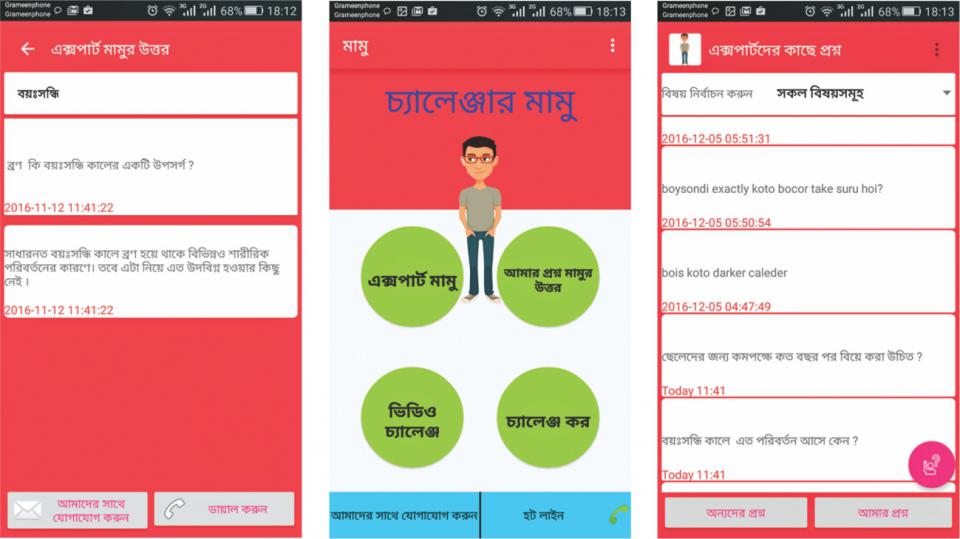 The initiative is also being supported by Dhaka University's Department of Women and Gender Studies and Promunda US and Netherlands Organisation for Scientific Research (NWO).
Increasing violence against women and girls is still prevalent in Bangladesh. It is widely speculated that the attention of the civil society and education-based pragmatic initiatives can contribute effectively to solve this crucial problem.
Source: http://www.thedailystar.net/star-weekend/campus-hero-cafe-eliminating-stigma-towards-sexual-and-reproductive-health-1330450