Initiative to Include Transgenders in Basic Healthcare
The transgender population has always been deprived from their most basic rights- the rights to education, housing, employment, and even healthcare. It becomes difficult for transgender individuals to visit clinics and hospitals to receive healthcare services because of the attitude, behaviour and gaze of doctors and other patients towards them. Bandhu Social Welfare Society organised a consultation session on 19th November at Spectra Convention Centre under UBR Alliance and Arrow. The objective of the event titled 'Inclusion of Transgender Population in SRHR Interventions and Healthcare System' was- to address issues around transgender people's SRHR needs; to listen to the youth on how to include transgender issues in ongoing interventions and services; and to promote gender inclusiveness in development initiatives
Young people including young men, women and transgenders formed groups to discuss and pen down their recommendations, which were later announced in the presence of representatives from the government, embassies, NGOs and transgender individuals from Bangladesh. Some of the recommendations are listed as follows:
Establish youth corners to provide service to all genders

When transgenders seek youth friendly services in different districts, ensure their confidentiality

As transgenders face stigma and discrimination from their families and public places, give special attention to thier mental health.  

Give transgenders the right to participate in the formulation of government policies

Include chapters about transgenders in the national curriculum school textbooks
Dr Bellal Hossain, Professor, Department of Population Sciences, University of Dhaka, gave a keynote presentation where he mentioned that it is very difficult to collect the exact number of transgenders living in Bangladesh. "Data is limited, whatever we know is from personal experience and word of mouth," he quoted during the presentation. He also raised his concern about the missing 'S' from 'SRHR'. He said "The society chooses to focus only on reproductive health without worrying about the fact that both sexual and reproductive health go hand in hand."
Dr Abul Hossain, Project Director of Multi-Sectoral Project on Violence Against Women, Ministry of Women and Children Affairs, encouraged everyone to share their information, projects and documents with the government, as it helps them to take initiatives and further steps for action. Dr Abul Hossain was also the Chief Guest of the event.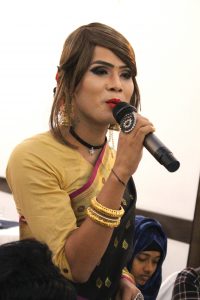 A transgender woman from the audience expressed her anguish about the fact that they are unable to get access to basic rights. She said, "It was decided by the government that transgenders will receive stipend for education. But when we went to collect the forms, the people working there were not willing to cooperate with us. In the healthcare systems, we can't go to get tested for HIV as the doctor's attitude and gaze makes us uncomfortable. Even if laws are passed, they exist on paper but in reality, nothing changes."
Christine Johansson, Deputy Head of Mission and Head of Development Cooperation, Embassy of Sweden, said that the rights of transgenders is an issue that is very dear to her because a close family member of hers is a transgender too. "I wish you to continue to be good advocates" she said.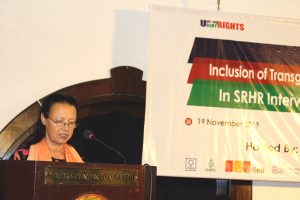 Mushfiqua Zaman Satiar, Senior Policy Advisor- SRHR and Gender, Embassy of the Kingdom of the Netherlands, ensured that the Embassy is always there to promote inclusiveness. She also insisted not to use 'third gender' to refer to transgenders, but to use the word 'others' for them. 
The session ended with a colourful performance by the dance group 'Essence of Soul', a group which is made up of professional transgender dance performers.