National Dialogue on Early Married Girls and GBV
Government and other stakeholders working against child marriage should jointly develop a national master plan to prevent child marriage. This master plan should also include early married girls to improve their situation. This was the conclusion of a national event titled 'Gender Based Violence in the context of Early Married Girls' held in Dhaka on Tuesday at the CIRDAP International Conference Center.
The IMAGE (Initiative for Married Adolescent Girls' Empowerment) Plus project – holding its long stance to improve the lives of early married girls and to realise their human rights – initiated this dialogue among stakeholders to advocate at the policy level. The aim was not only to address the issues of gender-based violence on early married girls, but also to discuss ways in which it could be prevented.
The unique project, which successfully reached over 9000 early married girls in three districts – Gaibandha, Nilphamari and Kurigram – brought in three beneficiaries to this event to talk about their stories of change. The three changemakers – Asma Begum, Arjina Begum and Joygun Begum – were celebrated for turning their lives around from child marriage.
Ms Aroma Dutta MP and , the Chief Guest of the event and Member of Bangladesh Parliament, Co-Chair of Parliamentary Caucus on Child Rights, People's Republic of Bangladesh graced the event as Chief Guest. Praising the early married girls for their courage and willpower, she urged the organisations present in the event to work in coordination with IMAGE Plus and the government. Showing her commitment, she said, "Let us all sit together and create a master plan to have zero child marriages by the year 2030."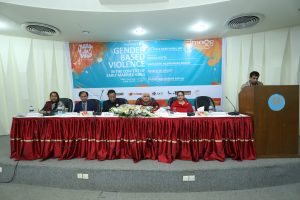 Arnob Chakrabarty, Managing Director, RedOrange Media and Communications, welcomed the guests and shared the objective of the event. He said, "Violence  is a disease like cancer, and we still have not found any way to come out of it. Women and girls are the worst sufferers of violence , and we must act collectively."
Ms Mushfiqua Zaman Satiar, Senior Policy Advisor SRHR and Gender, Embassy of the Kingdom of the Netherlands attended the event as Guest of Honour. She said, "Apart from 9000 girls from Nilphamari, Kurigram and Gaibandha, we want to reach all 500,000 early married girls in every part of the country. I believe that our government will help us achieve this goal."
Farhana Jesmine Hasan, Project Director, IMAGE Plus, presented the Position Paper which aligns with this year's 16 Days of Activism on Violence against Women. In her presentation, she addressed some of the root causes of early marriage and presented data on the situation of gender based violence on early married girls that were acquired from the field.
Mr Gaziuddin Muhammad Munir, Joint Secretary (Admin) and Regional Board Member SAIEVAC (South Asia Initiative to End Violence Against Children), Ministry of Women and Children Affairs and Monira Hasan, Child Protection Specialist, UNICEF Bangladesh attended as Special Guests.
Distinguished guests from various government and non-government organisations working on women and child rights were also present in the event. They gave their suggestions for carrying out future plans on child marriage prevention and early married girls' empowerment.
Story of one of the Changemakers
Asma Begum from Kurigram became pregnant soon after her marriage. Her pregnancy was accompanied with some complications due to which she became sick and was unable to carry out household chores for some months. As a result, her husband and in-laws misbehaved with her and even tortured her. When her baby was 6 months old, her husband left after saying he will be back in 2.5 months.
In the meantime, Image PLUS linked Asma to an NGO called Friendship which provided her with life skills training on animal farming and sewing. She received 3 goats and a sewing machine to help her earn her livelihood.
When she realized that her husband is not coming back even after many months has passed, she filed a General Diary and decided to divorce him.  She succesfully not only divorced him but also made sure that he paid the mahr that she was supposed to receive at her wedding.
Today, she earns her living with the help of sewing and animal farming. She tries to inspire her neighbours not to marry at an early age. Last year she received the Joyeeta award for her courage.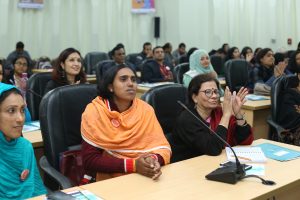 IMAGE Plus is funded by the Embassy of the Kingdom of the Netherlands (EKN) and jointly implemented by Terre des Hommes Netherlands, RedOrange Media and Communications, Terre des Hommes Foundation, SKS Foundation and Pollisree.