Young People and Mental Health in a Changing World
#WorldMentalHealthDay
#LookAfterYourMind
#YoungMindsMatter
LET'S MAKE MENTAL HEALTH A PRIORITY!
Mental Health is defined by World Health Organisation (WHO) as a state of well-being in which every individual realises his or her own potential, can cope with the normal stresses of life, can work productively and fruitfully, and is able to make a contribution to her or his community.
The World Federation for Mental Health (WFMH) focused this years World Mental Health Day (WMHDAY18) campaign on Young People and Mental Health in a Changing World in order to bring attention to the issues of youth and young adults in the contemporary world.
The importance of physical health is often emphasised throughout our lives, but our mental wellbeing is often overlooked.
According to WHO, 16.1 percent of adults and 18.4 percent children in Bangladesh (out of 161 million) live with mental health issues. Despite the enormity of the issue and the need for improved services, budget allocation for mental health had seen decline over the last few years. The national budget allocated for mental health in 2015 was 0.44 percent, which indicates extremely low priority given to mental health, and even to this day there is a lack of advocacy on the topic.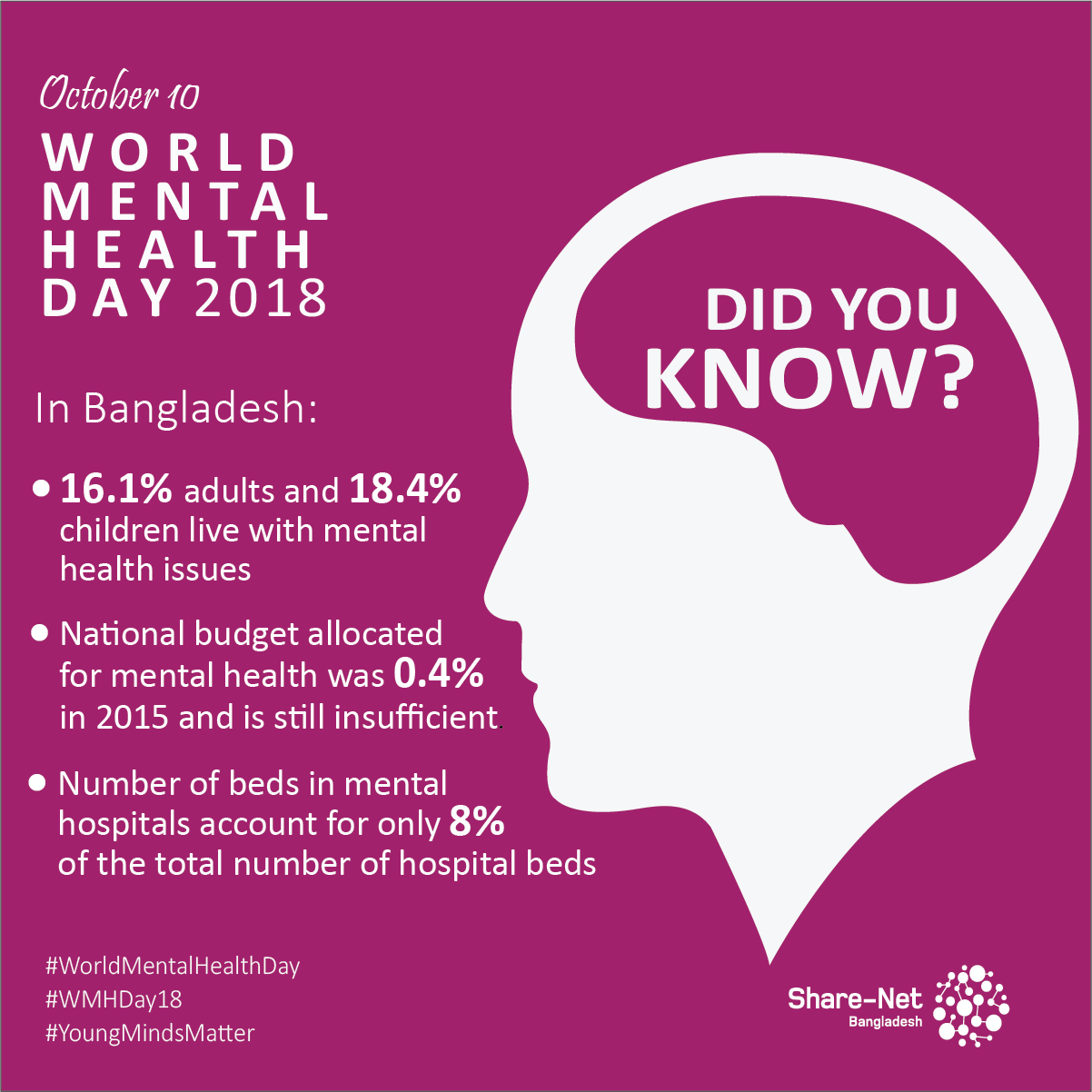 In schools, things like depression, stress, anxiety, and emotions are almost never discussed with students even though many young people suffer from these. A social stigma regarding these issues persist in our society which discourages a lot of individuals from seeking help. There still remains a lack of conversation around what they need in order to grow up healthy, happy and resilient.
YOUNG MINDS MATTER!
The youth in the modern era, in their transformative phases, have to face various kinds of mental pressures—whether it is within their home, at their workplaces or in their social circles. With mounting competition, expectations and pressures from all directions, many don't know how to overcome their anxieties and other mental setbacks, since they are seldom equipped with sufficient knowledge about these issues.
Let us all use this year to emphasise the needs of our young people. It's time to take a stand and demand more for this vulnerable population – our future depends on it!