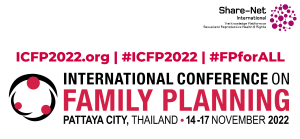 We are excited to share that several members of the Share-Net secretariat will attend the 2022 conference, and we would like to know if our members are going too! We'd love to plan some meet-ups, attend sessions together, or do some other extra-curricular activities with you (chats, coffee, attending sessions together, lunch… the choice is yours 🤗).
To help us organise and plan some things in, please fill in our very short survey below to tell us if you're going.
___________________________________________________________________
ICFP 2022 – Conference Details
Location: For the first time ever, the conference is being held in hybrid format, both in-person in Pattaya, Thailand, and online!
Dates: November 14-17 2022
Registration: Register here.
If you're going to #ICFP2022, we hope to see you there! Please feel free to get in touch with Bless-me Ajani with further questions: b.ajani@kit.nl
Kind regards,
The Share-Net International Team