"SRHR is an integral part of human rights," says Nasima Begum, Chairman, NHRC
"SRHR is an integral part of human rights. The Human Rights Commission is working on several programs to ensure SRHR for not only women, but also men," said Nasima Begum, Chairman of the National Human Rights Commission, and Chief Guest at the SRHR Knowledge Fair.
This Knowledge Fair brought together practitioners, researchers and experts from the field of SRHR to enable them to exchange their learning and share knowledge with each other. The theme of the event 'SDG5: Gender Equality' was introduced in the opening session by Arnob Chakrabarty, Project Director of Share-Net Bangladesh. The aim of the event was to promote discussions on how to achieve gender equality, especially in terms of one's sexual and reproductive health and rights.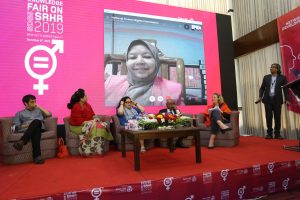 The Grand Plenary titled 'Role of Donors, Government, and the Private Sector in Advancing SDG 5, focusing on SRHR' was the highlight of the event. This was followed by sessions where young and experienced researchers presented their papers. There was a hub dedicated exclusively to the youth to enable them to come together and formulate an action plan on how they can move forward with their SRHR demands. The event ended with a drama performance by Medicine sans Frontiers, and a dance performance by 'Essence of Soul', a group of transgender professional dancers. The event also showcased knowledge dissemination stalls where different organisations portrayed their work. 
Selima Ahmed MP, President, Bangladesh Women Chamber of Commerce and Industries and Trina Oviedo, First Secretary (Development), High Commission of Canada were Special Guests at the event. Dr Asa Torkelsson, Country Representative, UNFPA, was present was the Guest of Honour.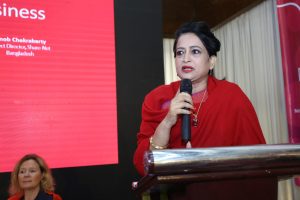 "We need to work for a world that is safe for women, in public places, in schools, workplaces and of course in homes," said Dr. Asa Torkelsson.
Dr Selima Ahmad MP laid emphasis on the importance of women's entrepreneurship and expressed her gratitude towards the Prime Minister for her efforts to promote women's empowerment. 
Two young researchers presented their findings from a research that they conducted with funds won from Share-Net Bangladesh. 
The grand plenary began with a Keynote Presentation by Dr Ubaidur Rob, Country Director, Population Council, where he addressed gender inequality in the workplace. He said, "We have to invest heavily in the education sector for technical training for women." He also asserted that the practice of men hiring men should stop.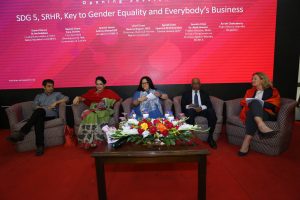 Nine researchers presented their findings in three different parallel sessions titled: 'Making quality sexual and reproductive health education available to all'; 'Advancing justice and equity in sexual and reproductive health in health care' and 'Prevention and protection from sexual harassment in public and workplaces'.  
Dr Ashrafunnessa, Line Director (IEM), Directorate General of Family Planning, was the Chief Guest, and Mushfiqua Zaman Satiar, Senior Policy Advisor- SRHR and Gender, Embassy of the Kingdom of the Netherlands, was the Special Guest at the Closing Session.
Highlights of SRHR Knowledge Fair 2019